Le 20 et le 21 Mars Moscou
 Nous sollicitons de Madame la vice Présidente du conseil de Russie, Madame Svetlana ORLOVA de bien vouloir accepter de m'accorder un interview privé sur la question du programme « Eau pure », sur le rôle des femmes en Russie dans les questions environnementales et en particulier dans les questions se rapportant à l'eau, sur ses prospectives en la matière. Le point de vue d'une représentante Russe sur le sujet » La femme et l'eau », serait un merveilleux témoignage à partager avec l'ensemble des femmes.
Le 22 Novembre 2012 à Moscou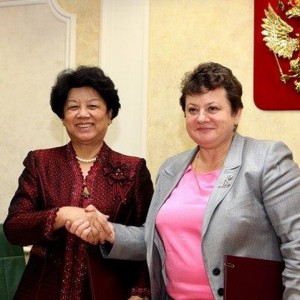 Vice Chairperson of the Standing Committee of China's National People's Congress (NPC) and President of the All-China Women's Federation (ACWF) Chen Zhili (L) shakes hands with Vice Chairperson of the Federal Council of Russia Svetlana Orlova after they sign the Consensus on the Seventh China-Russia Women's Culture Week and the Fifth China-Russia Women's Forum in Moscow on November 22, 2012. [Women of China] Addressing the opening ceremony, Vice Chairperson of the Standing Committee of China's National People's Congress (NPC) and President of the All-China Women's Federation (ACWF) Chen Zhili highlighted the positive development of bilateral strategic relations between the two countries in the past few decades, and vowed that China will continue working closely with Russia to enhance the countries' comprehensive strategic partnership. Chen also said that the culture week aimed to provide women with a platform to communicate and share their views, as well as improve their understanding of women-related issues. Chen added that women from both countries are expected to contribute to strengthening bilateral future cooperation in environmental protection and other fields. For her part, Vice Chairperson of the Federal Council of Russia Svetlana Orlova praised the positive development of bilateral ties, adding that the culture week will further cement cooperative ties between women from the two countries. On the sidelines of the ceremony, Chen and Svetlana Orlova also witnessed the signing of the Consensus on the Seventh China-Russia Women's Culture Week and the Fifth China-Russia Women's Forum. In attendance were Vice President and Member of the Secretariat of the ACWF Meng Xiaosi, Chinese ambassador to Russia, Li Hui, and representatives from other government branches and enterprises from both sides.
Dans son dossier de presse de Avril 2012 GDF SUEZ

Nous pouvions lire: Le challenge de l'eau Dans les dix années à venir, l'eau et l'assainissement feront l'objet d'importants investissements en Russie. Sur ce marché, Degrémont Russie a fait ses premiers pas en 2003-2005 avec une participation à la construction de l'usine de traitement des eaux de Yugo Zapadanaya, à Moscou. La société s'est engagée dans le programme « Eau Pure » lancé par le gouvernement russe en 2008 et travaille avec ses partenaires locaux à la création d'une Académie de l'Eau à Saint-Pétersbourg, pour former les ingénieurs de l'eau en Russie. En 2010, Degrémont a signé deux contrats majeurs portant sur la construction de deux usines d'incinération des boues d'assainissement, l'une à Rostov-sur-le-Don et l'autre à Sotchi dans le cadre de la préparation des installations olympiques pour les Jeux de 2014.
Publications sur le site très officiel de:

Where the pure water flows 28.04.10 Traduction en Français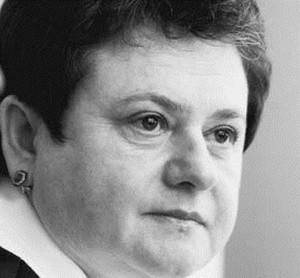 by Svetlana Orlova, the vice-chairman of the Council of the Federation, Izvestiya (in Russian)
Industrial sewage system of huge factories, chemical industrial complexes, drainage drains of agricultural fields arrived in the rivers and lakes long before the term « ecology » began to use in our country. Hydrotechnical constructions, which is calculated on 40-50 years, have already reached the end of its service life and have been in need of reconstruction in our country.
At present, the condition of the centralised water supply is unsatisfactory almost everywhere in our country, except Moscow and St.Petersburg. The water purification stations are absent in many suburbs and countryside and sewage are not cleared.
Nowadays, according to supervising bodies, 35-60% potable water does not satisfy to sanitary code in Russia. Moreover, 40% of superficial and 17% of underground sources of drinking water supply is not adequate to the standards. It is available only 46% all the waste agricultural and the industrial production, dumped in our rivers and lakes for standard requirements (exactly less than half). And now 11 million people have not access to qualitative water in Russia. The third of population of the country (it is nearby 50 million persons), drink water with the raised maintenance of iron.
Poor quality of drinking water affects on the population's health. Microbe pollution is the frequent reason for intestinal infections. Flashes of sharp intestinal infectious diseases, caused by potable water, are registered in our country. As a whole, 20,6% Russian waterpipe tests falls short of hygienic norms to potable water because of sanitary-chemical indicators.
The condition of our waterpipes is known not only for experts. Almost third of all the pipes is subject to urgent replacement while it is replaced approximately 1,5% annually. Even increased volume of repair work does not solve a problem of delivering water to consumers. The only way-out: « The pure water approachment the apartment houses and social sphere objects with simultaneous realisation of the whole series of arrangements in the sphere of water supply, water removal and water purification.
The present day Russian water-economic complex demands a constant investment of budgetary funds at least on its existing maintenance in order not to change situation for the worse. At the same time modern technologies and the rational way to development of complex can reverse the situation radically.
The theme devoted to pure water unites variety of programs and projects. These are the project « Pure water » by party « The United Russia », the regional programs of the same name in many subjects of federation. It is brought in, but not yet accepted by the government the state program project « Pure water ».
First of all, the mission of government program « Pure water » is to provide the federal centre of programs of subjects of federation with co-financing and to help to involve private investments in water branch, but not to replace or include proper regional and municipal programs.
The fundamental aims of the program are the creation of system of efficient control in sector of water supply, water removal and sewage treatment, the creation of opportunities for attraction of private investments, formation of system of the state obligations and the monitoring system, stimulation of producing the innovative domestic equipment, technologies and materials, supply of drinking water of the objects of social infrastructure; forming of information-analytical base about water branch; state support of regional programs and projects' realisation.
The work within limits of « The United Russia » project has considerably favoured state project development. Indeed, the problem of acceptance of scale water government program was one of the primary goals of the party project three years ago. The party project has allowed to transfer many questions of water supply and water removal in regions to the priority list. The water canals in Moscow, St.Petersburg, Orenburg, Kaluga, Khanty-Mansiysk and Rosvodokanal have done a great deal of work for the state project development. A number of the Russian institutes took part in the project government program and it was finished finally by the Ministry of economic development.
The items of the program project were discussed at forums and conferences, including the St.Petersburg international economic forum, the Neva international ecological congress, the International conference « Pure water » and approved by « The Russian association of water supply and water removal », « The National union of water canals ».
The themes of tariffs, filter applications and water treatment were actively discussed in connection with the state program project.
The priority attention is given to control tariff growth. For this purpose the program foresees the development of competitive market of services in providing the population with pure water: use of competitive mechanisms of attraction of private operators, regular estimation of their work.
It is necessary to solve problems of water industrial and consumer treatment. It needs arrangements of perfection of payment mechanisms for the supernormal pollution substances according to permitted standard, monitoring of quality of water treatment in real time, application of modern technologies of clearing.
Some mass-media publications attempt to attribute aspiration to set up certain models of filters at the cost of great budget money, exceeding the federal budget, to the state program.
The firms-manufacturers or models of filters are not mentioned in the project of the state program at all. Local authorities and administrations of establishments make a decision what filters to install on objects of social infrastructure. The decision should be accepted according to the 94th federal law with carrying out the competitions and documentation check. The main word in estimation of filters belongs to « Rospotrebnadzor ». The basis of state program is creation of the competitive environment, possibility of a choice of various technologies and models. And only the house owner can decide what filter to install.
The problem of nation-wide scale is providing the access to pure water for people and it should be solved at all the authority levels together with citizens.